Barnie Feature: Meet Robert Newman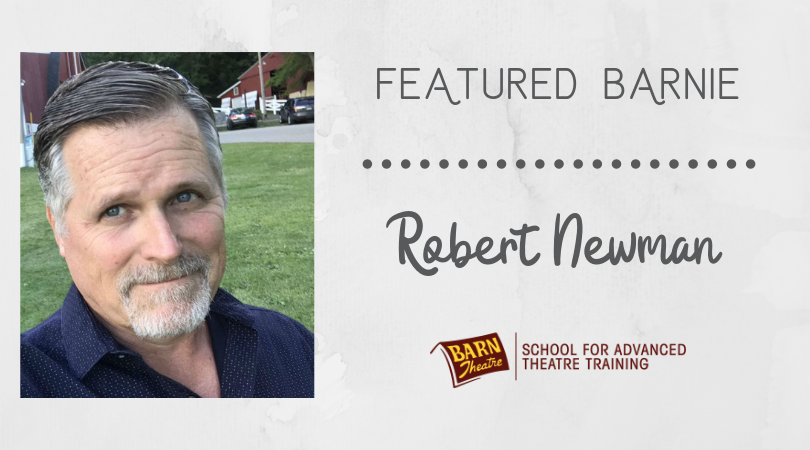 We're back with another Featured Barnie! The Barn has been home to so many famous actors and actresses over the years. And occasionally, we convince them to come back to where they started and share the stage with our company! This month's Featured Barnie is Robert Newman. Make sure you come see him on stage in SWEENEY TODD, BIG the Musical and more!
Born in Los Angeles, we were lucky to have Robert find his way to Augusta, Michigan and join the Barn Theatre. Some of his past Barn credits include PICNIC, BAREFOOT IN THE PARK, ROMANTIC COMEDY, SYLVIA (which he also di­rected), MAN OF LA MANCHA, PETER PAN, and DEATHTRAP.
He's also starred in Amazing Spider-Man 2, Dracano, and the short film Deadline, for which he won the Best Actor award at the Los Angeles Independent Film Festival!
Best known for starring alongside another Famous Barnie, Kim Zimmer, Robert played Joshua Lewis for 28 years on the longest running program in broadcast history—Guiding Light. The show earned him 2 Daytime Emmy nominations and led to other guest appearances on television including in Criminal Minds, NCIS, and Law and Order: SVU. His Off-Broadway Credits include PERFECT CRIME, SHE'S OF A CERTAIN AGE, SESSIONS: THE MUSICAL, and QUIET ON THE SET.
You're probably most familiar with Robert from his return to the Barn the past few years. In 2017, he starred in THE HUNCHBACK OF NOTRE DAME and THE LION IN WINTER, and last year you saw him in THE CIVIL WAR, NOISES OFF, and as Edna Turnblad in HAIRSPRAY.
A true joy to watch perform, we're so excited to have him star as the Demon Barber this season. Purchase your tickets NOW and don't miss Robert Newman, on stage through Sunday, July 14! You can also catch him onstage in BIG the Musical.