June 11 – June 16: LOVE, LIES, AND THE DOCTOR'S DILEMMA. Check out the reviews!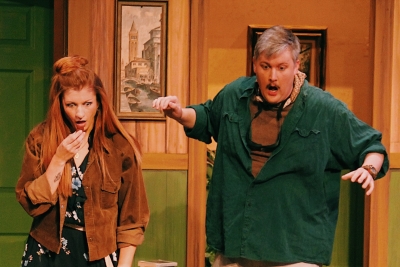 From Encore Michigan:
Nothing can top a perfect summer day better than a night of nonsense. And that's exactly what you can expect from Love, Lies And The Doctor's Dilemma, the second show of the summer season at The Barn Theatre in Augusta.
Unlike the door-slamming, sex-centered British farces, this all-American farce by Michael Parker and his wife Susan Parker is not quite so hectic. Each of the six characters finds romance and passionate kisses, but the "lies" in the title are not about cheating on a loved one. In fact the plot quickly becomes centered on the "doctor's dilemma."
Widow Joan is in love with her former gardener, Sandy, but to hide the affair she tells her visiting sister-in-law,  Olivia, that he is her psychiatrist. Soon everyone is telling all in sessions with the good Doc. Olivia, a wealthy, overbearing actress, confesses a desire to spice up her sex life. Vinnie, a mobster looking for Joan's son, Chris, admits he is ready to give up the life of crime. Nutty neighbor Rachael wonders why everything she touches turns to chaos.
From Revue West Michigan:
There are reasons to see a show above and beyond the quality of the script. And in the case of the comedy "Love, Lies, and the Doctor's Dilemma," which runs one week only at The Barn Theatre in Augusta, those reasons are many. In this case, it's actually a special treat to see how much an enormously talented resident company can do with their imaginations and skill to create wildly hilarious entertainment with so little.
Written in 2016 by Michael Parker and Susan Parker and with limited regional theater productions since then, "Love, Lies, and the Doctor's Dilemma" is a classic farce in that it's about a ridiculous situation, and that drives the story more than a meaty plot or rich characters.
Widow Joan and her former gardener Sandy are in love and living the dream growing enough marijuana to supply their own breakfast pot brownies. But when Joan's judgmental sister-in-law Olivia, an overly-dramatic former movie star, comes to town, Joan lies about who Sandy is to hide their relationship. One lie leads to another, and a cast of characters gets involved to maximize the confusion and silliness: the ditzy neighbor girl Rachael, Joan's son Chris who owes thugs money (but it's not as simple as that), and Vinnie "The Enforcer" who's there to squeeze the money out of Chris.