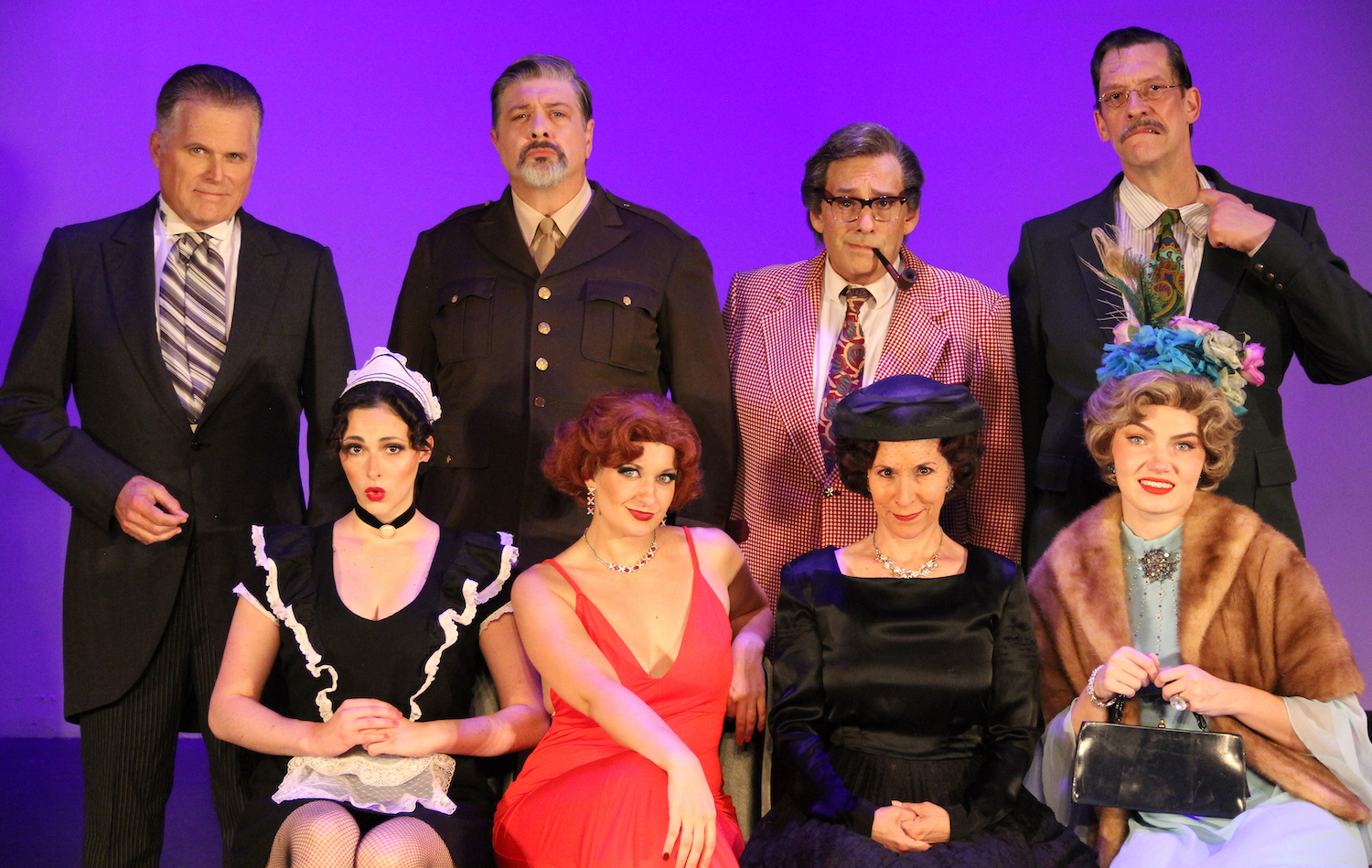 Picture ID: L to Right  Back row: Robert Newman, Lance Barber, John Jay Espino, Charlie King
Front row: Gabrielle Bieder, Melissa Cotton Hunter, Penelope Alex, Allena Evans
Barn Theatre Presents CLUE - EXTENDED DUE TO POPULAR DEMAND!
­­September 7 and playing long weekends through September 17
Produced by Brendan Ragotzy
Directed by Eric Parker
We are excited to bring the classic, thrilling, board game to life on stage in the adaptation of CLUE starring Lance Barber of CBS's Young Sheldon and Robert Newman of Guiding Light fame. Due to immense popular demand, the Barn Theatre has extended its run to include September 14 – 17.
Inspired by the popular family board game and based on the cult 1985 Paramount movie, CLUE is the ultimate whodunit that will leave you in stitches and promises to bring all the twists and turns of the beloved game.
Favorite Guest Star Barnie Robert Newman stars as Wadsworth, a quick-witted and uptight butler, as well as Barnie Lance Barber playing Colonel Mustard, a pompous military man.
Audience favorites Penelope Alex portrays the tragic, dubious Mrs. White, Melissa Cotton Hunter portrays Miss Scarlet, Charlie King is Mr. Green, and John Jay Espino is Professor Plum.
Rounding out the cast are second-year apprentices Allena Evans as Mrs. Peacock, Gabrielle Bieder as Yvette, the maid, Elliott Austin Wirshba as the Motorist, first-year apprentices Will Davis-Kay as the Cop, and Elizabeth Volpe as the Cook.
The star-studded cast finds themselves in an opulent mansion filled with murder and deception. Was it Mrs. Peacock in the study with the knife? Or was it Colonel Mustard in the library with the wrench?
This riveting theatrical mystery is based on the screenplay by Jonathan Lynn and written by Sandy Rustin, with additional material by Hunter Foster and Eric Price. The play broke all box office records during its regional, West Coast, and East Coast premiers.
CLUE is produced by Brendan Ragotzy and directed by Eric Parker.
Brendan Ragotzy and Brett Burradell are Scenic Designers
Nettie Fischer is Costume Designer
Properties are designed by Steven Lee Burright with Lights designed by Adam Guerriero
Garrylee McCormick is the Hair/Wig Designer
Troy Benton is Sound Designer
Technical Direction is by Brett Burradell. 
Performances for CLUE will run September 7th through 10th, and 14th through 17th.
Thursdays and Fridays at 8PM.
Saturdays at 5PM and 8PM.
Sundays at 5:00 PM.