Announcing ASL Interpreted Performances for the 2019 Season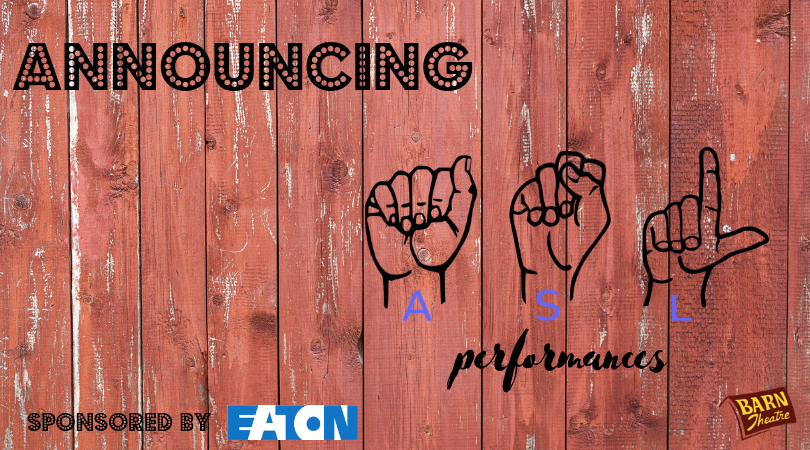 We're so excited to be working with Eaton once again this year to bring our loyal patrons ASL interpreted performances throughout the summer season! With Eaton's sponsorship of these performances, we're able to bring a seriously unforgettable experience to the Barn and to our audience. Whichever show you attend, it's sure to be a performance you won't forget.
For more details regarding our ASL interpreted performances, don't hesitate to call the Box Office at 269-731-4121. We'll see you at the Barn!
Disaster!
Thursday, June 6
Spelling Bee
Wednesday, June 26
(Backstage Xperience day!)
Sweeney Todd
Wednesday, July 10
(Adult Backstage Xperience day!)
Big the Musical
Wednesday, July 24
(Backstage Xperience day too!)
Mamma Mia!
Wednesday August 21 
Evil Dead the Musical
Thursday, August 29
Don't forget you can enjoy refreshments in the Rehearsal Shed Lounge with friends before the show, during intermission, and after the actors have taken their final bows. Take in our cabaret-style show after the main stage performances while satisfying your cravings with some light snacks. Make your Bar Show reservations online for the entire summer ~ No need to wait in line before the show!
Dinners are also available Tuesday – Saturday, with brunch on Sundays, provided by GMC catering of Galesburg. Call the Box Office for dinner reservations at (269) 731-4121 or request them online on the Rehearsal Shed page here.
The Barn Theatre is located on M-96, west of Augusta. Tickets range from $39-$48 for adults and $25 for children 12 and under. Visa, Mastercard, Discover, and American Express are all accepted. Group rates are available. The Box Office is open every day from 10:00 AM – 10:00 PM. Tickets can be purchased online. To reserve tickets call (269) 731-4121 or get them online here.