Where Are the Barnies Now?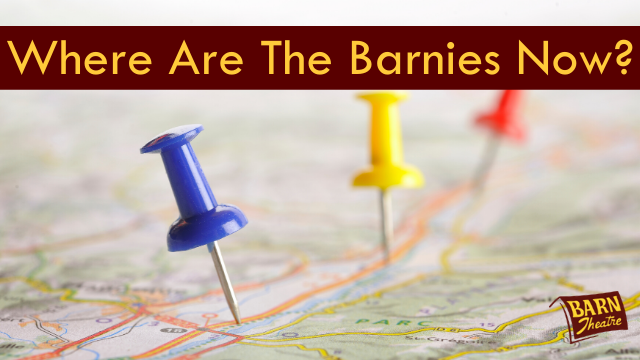 One of the most fun things about the Barn Theatre is seeing where all of our apprentices go after our summer season. We have actors all across the country! Take a look at what our 2019 apprentices are up to.
Belle Starr Johnson is back at school at BGSU.
Ryan Book returned to Ohio Northern University, studying musical theatre.
Madison Merlanti was with us for THE ROCKY HORROR SHOW but is back at school at WMU and kept very busy with her Enchanted Mirror business.
Chan Yu Hin Bryan made his way back to U of M. There, he studies voice performance.
Lexi Pinnata returned to Miami University, where she's studying music education.
Aaron Czarnecki recently performed in URINETOWN and was back with us for Christmas Cabaret. In the meantime, he's back at WMU where he'll be performing the titular character in SUNDAY IN THE PARK WITH GEORGE this spring.
Sophia Marie Rizzo is back at CMU, and is playing in RAGTIME.
Aleksander Papanastasopoulos was in Farmer's Alley Theatre's production of CAMELOT, and went back to school at WMU, where he studies musical theatre performance and economics.
Cosette Smith returned to Oklahoma City University.
Thomas Smith is back at school at ASU, studying musical theatre.
Rachel Torres made her way back to NYU Tisch School of the Arts.
Ron Zak went back to Kent State University, where he studies musical theatre.
Luiza Vitucci went back to Ball State University, where she studies musical theatre. She made her way back to Augusta to join us for Christmas Cabaret.
Christian Edwards was recently in RAGTIME and is back at school at CMU.
Caylin Walker is pounding the pavement in NYC.
Justin Mathews recently performed "Broadway Goes A Cappella IV" at the Green Room 42 in NYC and he was also in our production of THE ROCKY HORROR SHOW.
Molly Hill recently performed in URINETOWN and joined us for Christmas Cabaret. She graduated from WMU in December—congratulations!
And of course what our beloved Equity members have accomplished!
Patrick Hunter completed and published his thesis this fall completing his MFA degree! He appeared in Lafon Performing Arts Center's production of THE WIZARD OF OZ portraying the Cowardly Lion, played Charlie Brown in A CHARLIE BROWN CHRISTMAS, and also portrayed Mr. Bumble in OLIVER! at Rivertown Theatre for the Performing Arts ~ all in his home state of Louisiana.
Melissa Cotton Hunter is keeping very busy working and inspiring people at The Barre Code and raising two beautiful little Barnies!
Hans Friedrichs made his Off Broadway directing debut directing Cole Porter's FIFTY MILLION FRENCHMEN and then headed to Cape May Stage to direct MURDER FOR TWO the HOLIDAY EDITION.
Jonnie Carpathios appeared in the Barn's production of THE ROCKY HORROR SHOW, as well as the Christmas Cabaret Show. Is currently pounding the pavement in NYC.
Charlie King appeared in our production of THE ROCKY HORROR SHOW as Dr. Scott as well as lending his fabulous style to the Christmas Cabaret. You may see Charlie in the months to come strumming one of many of his wonderful stringed instruments as he gigs periodically throughout the SW Michigan area.
Luke Ragotzy graduated from WMU with his degree in Theatre Studies. He accompanied his dad, Producer Brendan Ragotzy, at regional auditions January 11th in Ohio, to assist in hiring our staff for the coming summer.
Steven Lee Burright appeared in our production of THE ROCKY HORROR SHOW as the Narrator. Nowadays, you'll find him working at the Barn on various projects and beautifying the grounds with his incredible painting talents.
Jerry McAllister spent this fall stage managing and working on THE ROCKY HORROR SHOW and is now lending his construction and painting talents. We're so happy Jerry is with us at the Barn!
Jamey Grisham is a Resident Guest Entertainer with Princess Cruises where he is headlining Fantastic Journey, Broadway Ballroom, and Bravo on board.
John Jay Espino just finished directing and conducting the show CHICAGO for Pacific Repertory Theatre in Carmel, California. He'll soon be music directing THE CHURCH BASEMENT LADIES in the LAST (POTLUCK) SUPPER for Sierra Repertory Theatre in Senora, CA.
So many Barnies made their way back to Augusta last month to enjoy our Christmas Cabaret performances—the family bond here is like no other, and our apprentices and Equity actors support one another whenever they can!