THE LION IN WINTER
Written by, James Goldman
Directed by HANS FRIEDRICHS
Produced by BRENDAN RAGOTZY
OPENING JULY 25 at 8:00 p.m.
(Augusta, MI) Epic and intimate. Brilliantly funny and deeply moving. Kim Zimmer and Robert Newman star in THE LION IN WINTER. James Goldman's triumph of drama premieres at the Barn Theatre July 25th and runs through August 6th.
As the sun sets on his reign, the great and powerful Henry Plantagenet (Guest Artist Robert Newman) calls his wife Eleanor (Guest Artist Kim Zimmer) to the castle at Chinon for Winter Court, along with their three sons – the warrior Richard (veteran Jamey Grisham), and the bumble-headed John (first year apprentice William Dunn), and the conniving Geoffrey (first year apprentice Jabri Johnson). Eleanor has been imprisoned by her husband since 1173 and uses every moment she can to ensure Richard to be the successor to Henry. The key to the throne is to marry Alais, King Henry's mistress (second-year apprentice Audrey Morton), who is promised by her brother, King Philip of France (second-year apprentice Quinn Moran), to Richard. Locked behind the palace doors, a deadly game of alliances and betrayals unfolds as each player moves to control who will sit on the throne when Henry is gone. Goldman has combined keen historical and psychological insights with delicious, acid wit to create a modern theatrical masterpiece.
THE LION IN WINTER was originally produced on Broadway in 1966 with Robert Preston and Christopher Walken in the cast. It became an Academy Award-winning film in 1968 with Peter O'Toole, Katharine Hepburn, Anthony Hopkins, and Timothy Dalton. In many ways, this play is the very precursor to the Game of Thrones phenomenon. The political sleight of hand accompanied with the raw, often turned violent, emotions that can only be accessed in the most brutal of family dramas is sure to keep audiences at the edge of their seats as they try to distinguish love from lies.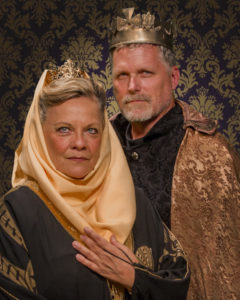 Since their final appearances on TV's Guiding Light, Robert and Kim have been sustaining their palpable chemistry and remaining a dynamic duo. They have worked together in productions of GYPSY at Pittsburgh CLO, and CURTAINS at Paper Mill Playhouse in New Jersey. They will soon be in a production of WHO'S AFRAID OF VIRGINIA WOOLF later this year at the Theatre Workshop of Nantucket – but this marks the first time the power-couple has ever shared the Barn stage!
Performances for THE LION IN WINTER are Tuesday – Saturday at 8:00 pm and Sunday at 5:00 pm July 25 – August 6.
Adult Backstage Xperience
*NEW THIS SEASON* The Barn Theatre School is offering an Adult Backstage Xperience for THE LION IN WINTER – July 27 & August 3! Much like the interactive experience for children, adults will be a treated to a sneak peek into the inner workings of mounting a production at the Barn, a backstage tour, Q & A with stars Kim Zimmer and Robert Newman and dinner provided by Kitchen House of Richland. Price for Adult Backstage Xperience is $75 per person. For details and registration call 269-731-1151. Space is limited.
Henry II, King of England – Robert Newman*
Queen Eleanor – Kim Zimmer*
John – William Dunn
Geoffrey – Jabri Johnson
Richard the Lionheart – Jamey Grisham*
Alais Capet – Audrey Morton
Philip II, King of France –  Quinn Moran
*denotes a member of Actors Equity Association   
Location & Ticket Information
The Barn Theatre is located on M-96, west of Augusta. Tickets are $37 for adults and $25 for children 12 and under for all performances. Rehearsal Shed reservations can now be made online – day of show. Visa, MasterCard, Discover and American Express are accepted.  Group rates available. Tickets may now be purchased online. To reserve tickets at the Box Office – Call (269) 731-4121 or visit the box office page. Box office is open daily 10:00 am-10:00 pm.