The Rocky Horror Show, October 22 - 31
Music and Lyrics by RICHARD O'BRIEN
Produced & Directed by BRENDAN RAGOTZY
October 22, 23, 24
October 29, 30, 31:
Showtimes are 5pm and 8pm
**We will have ASL Interpreters at the 5pm performance on Saturday, October 30th**
Let's do the timewarp again! Back with gender-bending abandon, the Barn Theatre School presents THE ROCKY HORROR SHOW, for a very special engagement during 2 weekends in October.
The story of THE ROCKY HORROR SHOW is a parody of old horror and science fiction movies, in a style that combines a rock show and a transvestite chorus revue. A presumably decent, conservative couple named and Brad and Janet, engaged to be married, have a flat tire while driving in the rain on a dark night. They seek help in a nearby castle. It turns out to be the lair of a latter-day Dr. Frankenstein named Dr. Frank 'N' Furter.  Rather than the traditional mad scientist, though, this version is a visiting transvestite from Transylvania, with a wardrobe that rivals Frederick's of Hollywood. The plot further unfolds to reveal that Dr. Frank "N" Furter is on the eve of bringing his gorgeous creation, Rocky, to life.
NOTE: new this season, this IS part of our regular season, which means that ticket vouchers, coupons and discounts ARE applicable!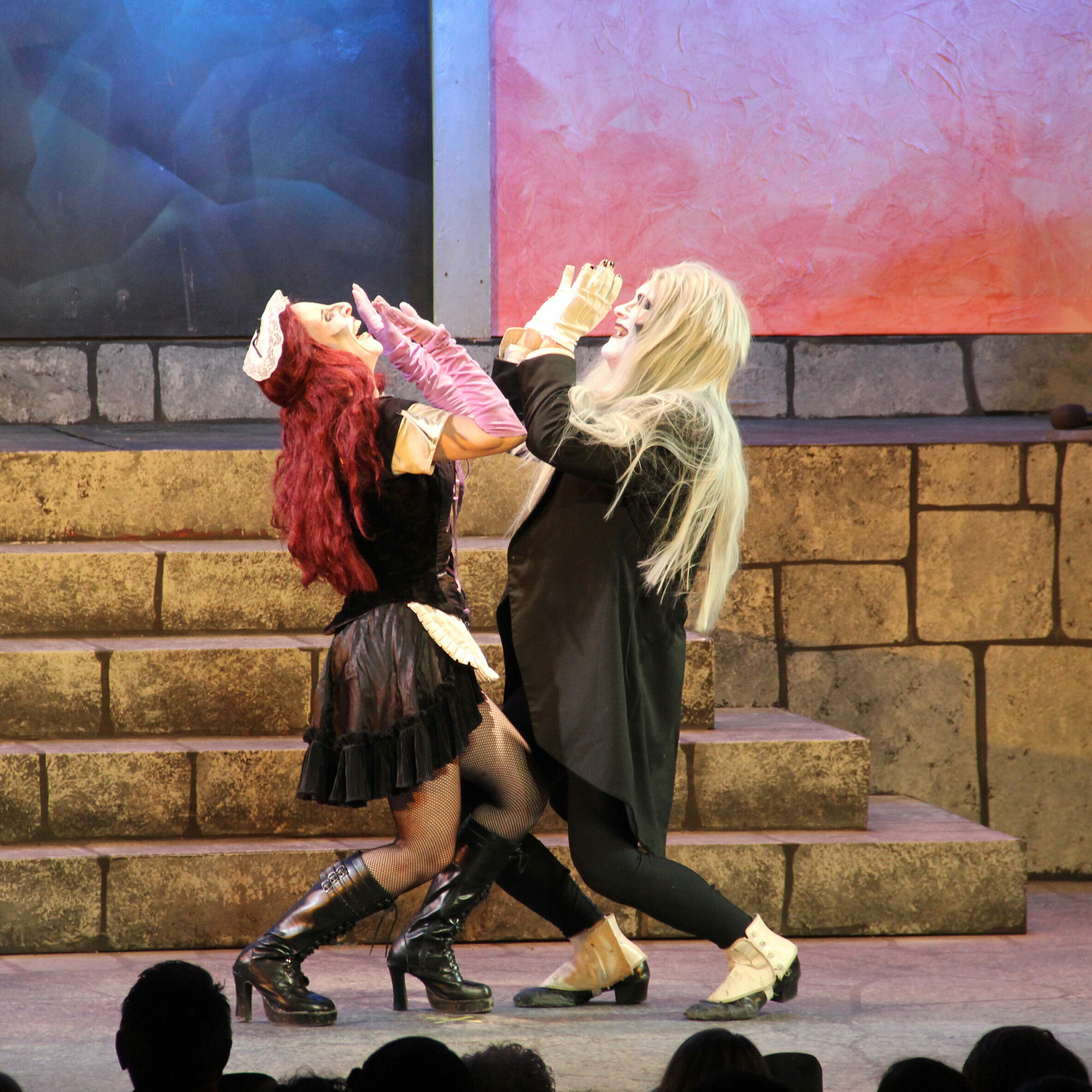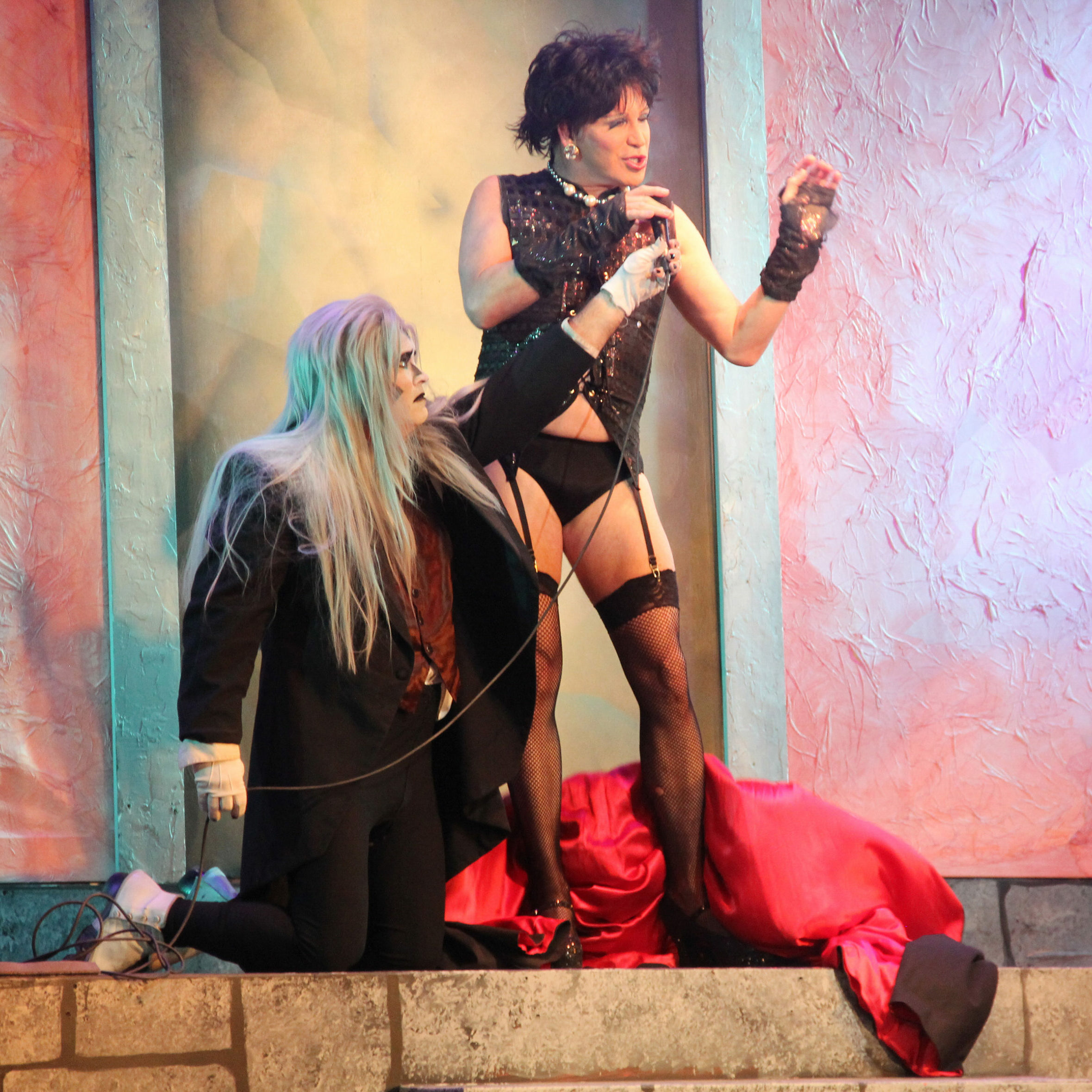 Dedicated Rocky Horror fans are encouraged to come to the Barn in costume and dance "The Time Warp"– BUT MUST PLEASE LEAVE ALL PROPS AT HOME!!
Producer Brendan Ragotzy says, "ROCKY is always so much creative fun for our company and the audience, it is time to bring it back, especially after the past year. And to do so in October is a perfect time."
We're so excited to share with the audience the new surprises in store with this ROCKY! (Adult Themes, Situations, and Language). Rated R
Meet the 2021 Cast
Frank 'N' Furter (A Scientist)....... ALAN PALMER*
Janet (A Heroine)............MELISSA COTTON HUNTER*
Brad (A Hero).........JASON KIMMEL
Narrator......... STEVE  LEE BURRIGHT*
Riff-Raff (A Menial)....... BRENDAN RAGOTZY*
Magenta (A Domestic)..... PENELOPE ALEX*
Columbia (A Groupie).....  SYDNEY WEISER
Rocky (A Creation)...... LUKE RAGOTZY*
Eddie (Ex-Delivery Boy)..... PATRICK HUNTER*
Dr. Scott (A Rival Scientist).....  CHARLIE KING*
 
 
Wedding Party/Transylvanians/Royalty:
MADI BRAUNZ, KATRINA CHIZEK, AARON CZARNECKI, MARY GREEN, JOE PEHRSON, LOGAN ROBERTSON, ANDREW TROSKEY, CAROLINE VETTIE, LUISA VITUCCI.
*denotes Equity Actor Member