Summer of 2019 – What to Expect at the Barn Theatre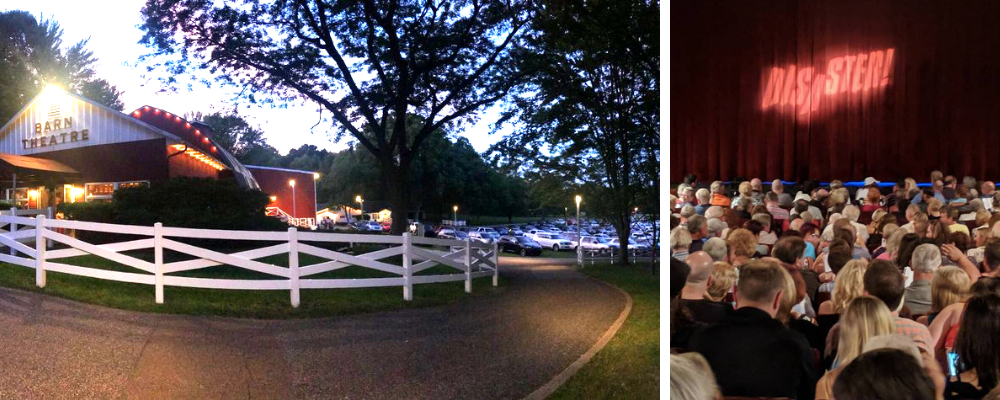 Summer of '19 doesn't have quite the same ring as the "summer of 69" – but we were around then and we're dancing in the aisles with excitement for our 73rd year.
Yes, our 73rd annual summer season has officially kicked off and we're excited to welcome both returning and new patrons to the Barn this summer. Whether you've never hung out with the Barnies before or you just need a refresher, we're here to explain how everything works for us here in Augusta!
The Barn is a Professional Equity Theatre, which means our apprentices, or actors, earn weeks toward their Equity Cards. They perform alongside current Equity members—those who have performed on Broadway, television, and more—stay right here in Augusta for the summer, and work harder than anyone we know!
A typical night at the Barn looks like this:
Pre show dinner or drinks, or both!
Join us in the Rehearsal Shed 1 hour before show time, where you can order drinks, mingle, and enjoy the space. This year, we are providing dinners, catered by Galesburg Meat Co., Tuesday through Saturday, (reservations are required). Dinners are served prior to the mainstage show.
Showtime. Take your seats!
Enjoy one of our incredibly entertaining, plays or major Broadway musicals! We have some hilarious comedies, and a few favorites like SWEENEY TODD and MAMMA MIA, just to name afew this summer. Last summer we expanded the leg room in our theatre, too.
After the Show – there's another show!
You're invited back the Rehearsal Shed for our nightly Bar Show, where you can again enjoy drinks, snacks and each other's company.  This is an energetic cabaret style show in an intimate setting where you get to see our actors up close. They're also the bartenders and servers, so you'll get to know them well. Reservations for a table to the bar show can be made in advance, too.
A few other things new patrons ask each summer.
Parking? We have free parking on our front lawn. It's a fun experience to drive in and join other patrons as you head in to the Shed or the Lobby.
Air Conditioning? We may perform in a barn, but we are not animals (unless it's part of a costume), but yes, we do have air conditioning.
What to Wear? You can enjoy a night at a professional theatre in a fun, relaxed setting. Some guests love to dress up for a great night out, others come out for a relaxed summer evening, so it's up to you. Just enjoy yourself and be comfortable!
73 Years, What's New? We're always working to improve the experience at the Barn Theatre. This year you'll see new bathrooms in our Rehearsal Shed building, along with several other improvements throughout our property. And this fall, a complete renovation of the Shed will take place. You'll have to come back to see it for our 7th Annual Christmas Cabaret!
What about bringing kids to shows and getting them involved?
We're glad we (you) asked. During select performances, we offer, what we call, Backstage Xperience. It's a way for children to be immersed in the magic of theatre! Students  are led by our Apprentice Actors through a hands-on learning adventure covering behind the scenes areas of the Barn – from costume and set design to our orchestra and the creation of our props. They participate in a several Q&A sessions, too. To see the creativity and wonder spark in those who attend Backstage Xperience dates is truly wonderful. You can check out our Backstage Xperience dates here.
Who are Famous Barnies?
We talk about being Barnies for Life, and it's true! Over our 73 years, there are hundreds of actors and professionals connected to the Performing Arts who started here. Who are they you ask? Well – Jennifer Garner, Lauren Graham, Tom Wopat, Lance Barber, Marin Mazzie and RENT creator Jonathan Larson just to name a few. See even more of them here.
This season, in addition to great performances, we're happy to welcome the return of Famous Barnies Kim Zimmer, Robert Newman, Lori Moore, and Jennifer Furney. There's nothing like welcoming Barnies home for a show or two.
So there you have it! We hope you'll join us this summer at the Barn Theatre School.
Get Tickets Now
View our show line-up and get your tickets now. It's a one of a kind experience you won't find anywhere else this summer!