Famous Barnie & Creator of RENT
You may know Jonathan Larson as one of the creative minds behind the musical RENT, but did you know he is also a Barnie?!
We want you to get to know our Barnies (old and new) better this season. And, especially share more about Jonathan since we're doing RENT this season!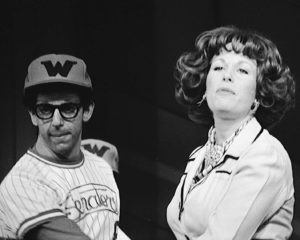 Jonathan was born in New York and graduated from Adelphi University. After earning his degree in Fine Arts, Jonathan made his way to Augusta, where he was a Barnie in 1980 and 1981. He was our Rehearsal Shed pianist for both of those seasons, and he performed in six different Barn Theatre productions, including Oklahoma and Whose Life is it Anyway? After earning his Equity Card at the Barn, he moved back to New York and spent his time writing and creating countless musicals and creative pieces which included "J. Glitz," a cabaret show starring Barnies Marin Mazzie and Scott Burkell.
One of his greatest musicals is tick, tick… BOOM! Several critics and friends agree that it was almost an autobiographical musical, based on Jonathan's own experiences as a waiter at the Moonlight Diner.
Some of his influences include Jesus Christ Superstar, (which we did here in 2016), Prince – who is also gone too soon, and the Beatles, just to name a few.
In 1991, Jonathan asked his friend Billy Aronson if he could use a previously worked on an adaptation of La Boheme that the two had collaborated on, and make it his own. This would later become the Tony Award-winning musical, RENT, which drew on his own life and experiences. Unfortunately, Jonathan never got to see his legendary musical on Broadway, as he died unexpectedly due to an aortic aneurysm the night before the musical's first performance in 1996.
Fun Facts:
RENT had a 12-year run on Broadway with 5,123 performances.
It was one of the top 10 longest-running Broadway shows until February 14, 2016, when Wicked surpassed that number of performances by adding a Sunday matinee show
In 2005 RENT was made into a movie directed by Chris Columbus. Nearly all original Broadway cast members reprised their roles
The Barn Theatre is thrilled to bring you this incredible musical as one of the shows of the 2017 summer season! To honor Jonathan, and his contributions to the world of theatre, we are proud to be able to share this production with our patrons. RENT will be performed on August 22 through September 3.
Join us in celebrating this renowned show and the mind behind it this summer at The Barn Theatre.