NUNSENSE | AUGUST 29 - SEPTEMBER 3
Directed and Produced by Brendan Ragotzy
The Little Sisters of Hoboken are ready to sing and dance their way into your hearts in NUNSENSE! Playing ONE WEEK ONLY through September 3.
Join Reverend Mother and four Sisters of the order in this hilarious spoof, as they put on a variety show that is sure to be "habit-forming." Due to an unfortunate food poisoning incident, the Sisters find that they must hold a fundraiser to try and raise money to pay the burial costs of some of the dead nuns. A serious problem for sure, and a great reason why this show will have you absolutely roaring with laughter.
The Barn's production features both fresh and familiar faces! Here we meet Reverend Mother Regina, (played by Barn Leading Lady Penelope Alex) a former circus performer; Sister Mary Hubert, the Mistress of Novices (played by Barn newcomer, Chicago-based performer, Ciarra Stroud); a streetwise nun from Brooklyn named Sister Robert Anne (second year apprentice Lizzie Maguire); Sister Mary Leo (first year apprentice Emily Babcock), a novice who is a wannabe ballerina; and the delightfully wacky Sister Mary Amnesia (second year apprentice Allena Evans), the nun who lost her memory. This show has become an international phenomenon featuring star turns, tap and ballet dancing, an audience quiz, comic surprises, and heart-warming and uproariously funny songs. With more than 5,000 productions worldwide, it has been translated into 21 languages. NUNSENSE is a riotous celebration of life, faith, and the power of sisterhood.
NUNSENSE is directed by Brendan Ragotzy
Musical Direction by Matthew Shabala
Aaron Czarnecki is Choreographer
Brett Burradell is Scenic Designer
Karsen Green is Costume Designer
Properties are designed by Jimmy Knox and Steven Lee Burright
Lights designed by Adam Guerriero
Troy Benton is Sound Designer.
Technical Direction is by Brett Burradell.
Performances for NUNSENSE run August 29 – September 3.
Tuesday through Saturday at 8:00 PM and Sunday at 5:00 PM.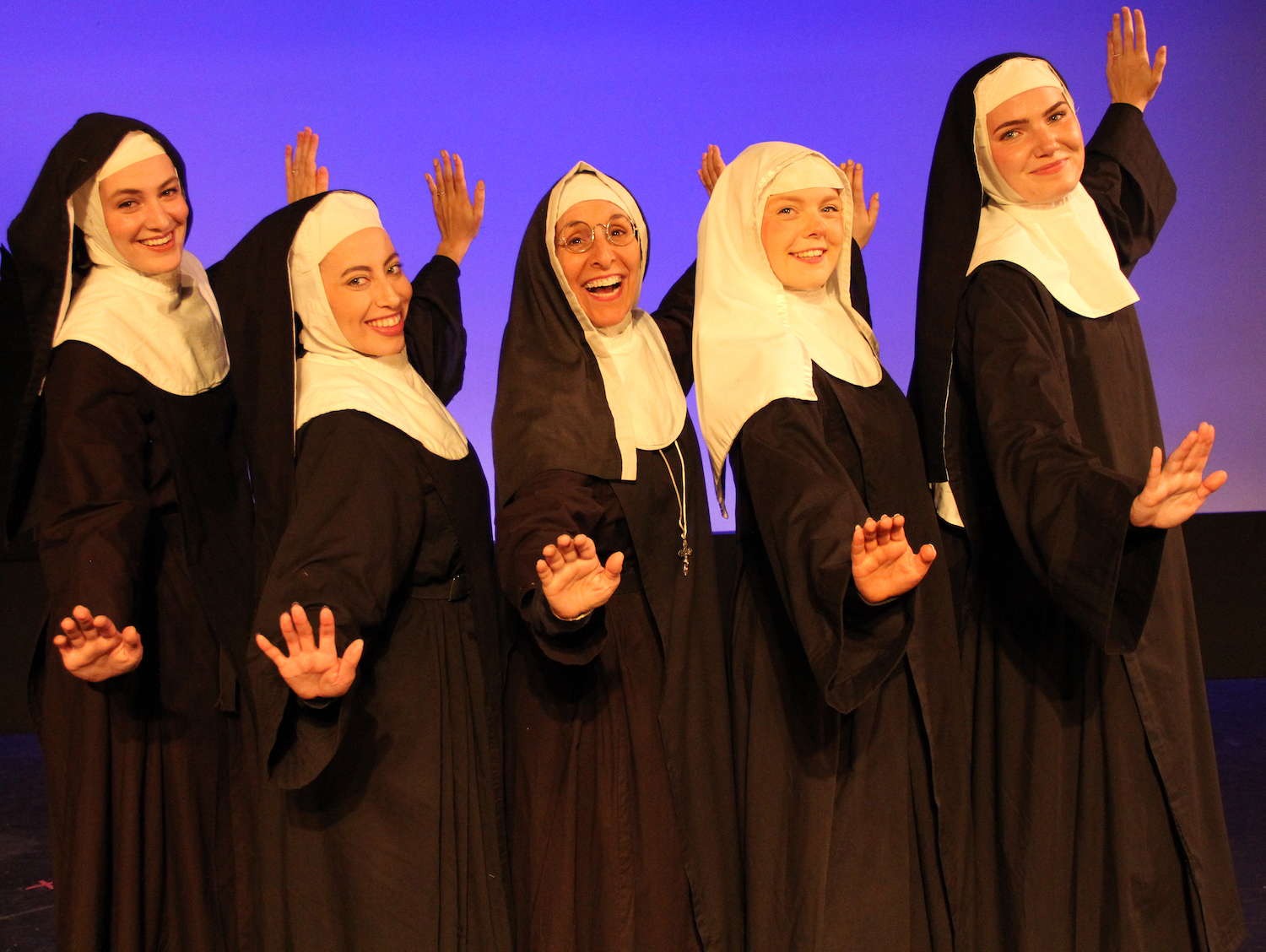 Left to Right:
Lizzie Maguire,
Ciarra Stroud,
Penelope Alex,
Emily Babcock,
Allena Evans
Reverend Mother -  PENELOPE ALEX*
Sister Mary Hubert - CIARRA STROUD*
Sister Robert Anne -  LIZZIE MAGUIRE
Sister Amnesia - ALLENA EVANS
Sister Mary Leo - EMILY BABCOCK
General Understudy - ELIZABETH VOLPE
Please Note: Due to the nature of live theatre, our schedule is subject to change.