A hilarious performance about a double agent, who drinks, and the fate of the world rests in his hands. What could go wrong?
After the demise of a considerable amount of a Double "0" agents due to poor training by agents Wallbanger (Melissa Cotton Hunter), Willcall (Luke Ragotzy), and Sitzbath (Patrick Hunter), Madam X (Penelope Alex) knows that there is only one man to replace them - Double "0" 69 (Guest Star Robert Newman). Double "0" 69's reputation precedes him, however, when he arrives on the scene, he is a broken man, spending the last few years in hiding in the Himalayas. The world is now faced with the threat of Max and Zelda Von Diesel (Charlie King and newcomer Melanie Wehrmacher). The Von Diesels have an evil plot to launch their wicked empire. Double "0" 69 must become field-ready again and save the world from impending disaster.
DOUBLE "0" 69 is directed by Brendan Ragotzy, set designed by Steven Lee Burright, and costumes designed by Melanie Wehrmacher. Technical Direction and Properties are designed by Sam Rudy. Lights are designed by Michael McShane. Sound has been designed by Spencer Wooley. Garrylee McCormick is hair/wig master. Double"0" 69 is rated R – for language and mature situations.
Meet the Cast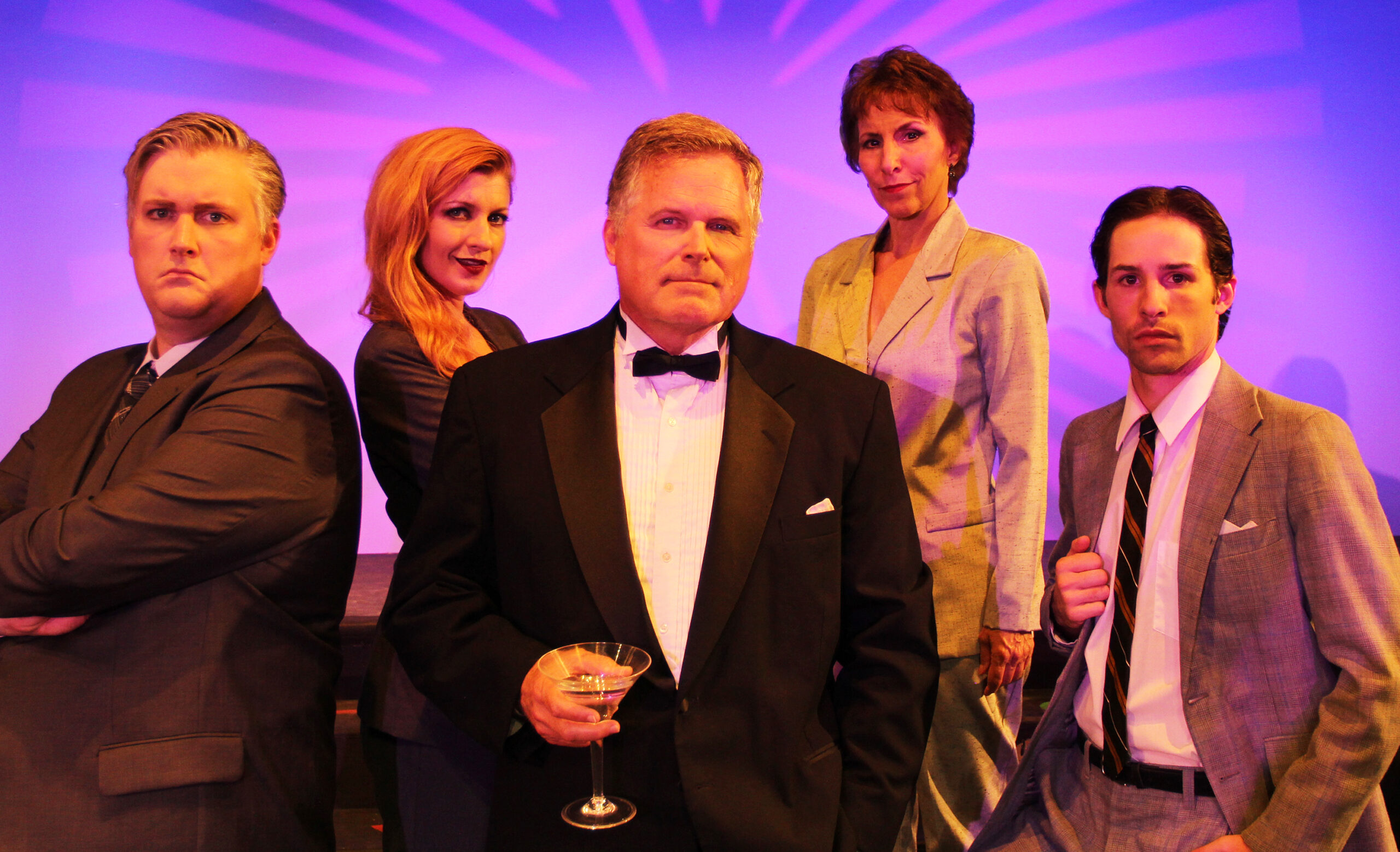 L to R: Patrick Hunter, Melissa Cotton Hunter, Robert Newman, Penelope Alex, Luke Ragotzy
Double "0" 69 -  ROBERT NEWMAN*
Madam X - PENELOPE ALEX*
Madam X's Muscle - JASON KIMMEL
Agent Wallbanger -  MELISSA COTTON HUNTER*
Agent Willcall -  LUKE RAGOTZY*
Agent Sitzbath - PATRICK HUNTER*
Max Von Diesel - CHARLIE KING*
Zelda Von Diesel -  MELANIE WEHRMACHER
Von Diesel Muscle - AARON CZARNECKI
Prudence - LEXI PINNATA
Cashier - SYDNEY WEISER
Bartender - STEVEN LEE BURRIGHT*
Card Dealer - JOHN JAY ESPINO*
*Denotes member of Actor's Equity Association