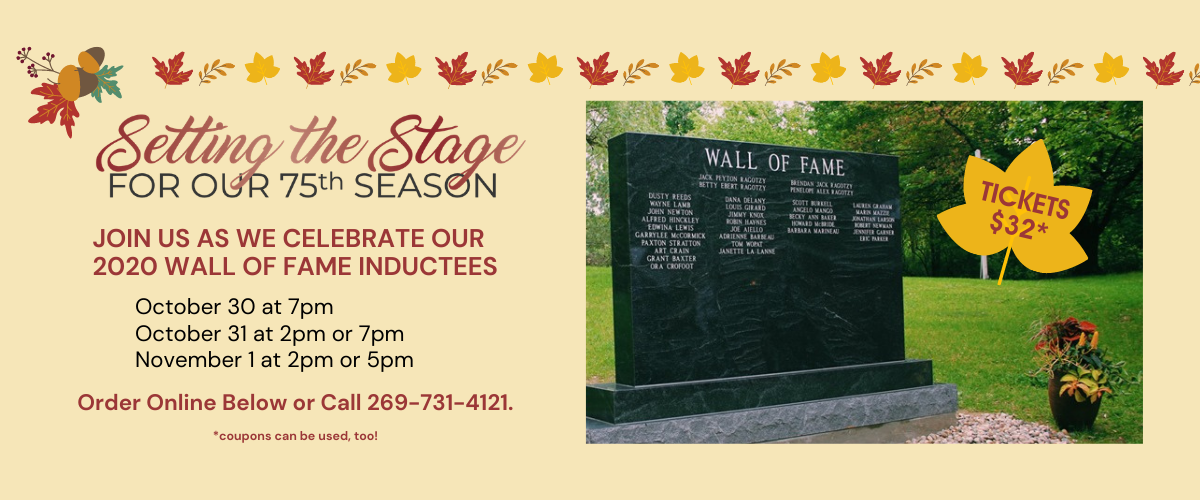 Setting the Stage for Our 75th Season in 2021 with Our 2020 Gala Events
We have definitely missed all of you this year, but we're excited to finally announce the details for our 2020 Wall of Fame Gala! The event will help us raise funds for the Barn Theatre School and celebrate our 2020 Wall of Fame inductees.
You are invited to join us to celebrate our 2020 Wall of Fame inductees while you enjoy fall-themed cocktails, a silent auction, and a special video presentation. This fall-themed event is sure to be a blast for adults and kids alike, so if you've missed us as much as we've missed you and you're interested in helping us raise much-needed funds, please get your tickets today!
To maintain social distancing protocols for your safety, there are FIVE opportunities to attend.
Friday, October 30 at 7:00pm
Saturday, October 31 at 2:00pm or 7:00pm
Sunday, November 1 at 2:00pm or 5:00pm
Tickets are $32. Coupons can be used, too!
Buy your tickets online now or call the box office to purchase/redeem your coupon.