July 2 – July 14: SWEENEY TODD. Check out the reviews!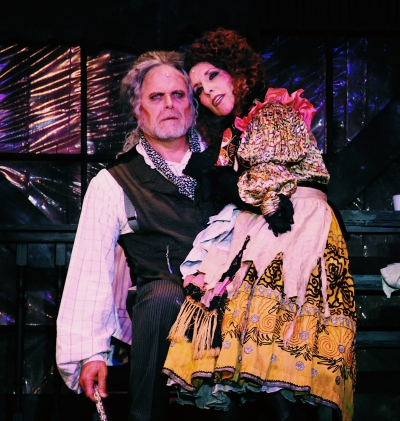 From Encore Michigan:
Obsession is a dangerous thing. It often blots out everything but that which is obsessed upon and can even destroy all the good in what is being sought.
That, ultimately, is the story Stephen Sondheim tells in Sweeney Todd, and cannibalism and murder is just the vehicle he uses to get there.
And in the hands of the artists at Augusta Barn, the vehicle is manufactured with outstanding musical voices, creative makeup and costumes, intense acting, a sometimes overpowering orchestra, a flexible moving set and intelligent directing that resists the urge to surrender to cheap choices and instead brings out the heart of Sondheim's masterpiece.
There are roles in musical theater that have achieved the status of iconic, two of those roles being Sweeney Todd and Mrs. Lovett. They've been played by some of the greats of our time—Len Cariou, Angela Lansbury, Patti Lupone, Kelsey Grammar, Emma Thompson. So it makes sense that the Barn would assign those roles to two of its stars—the eternal Penelope Alex and their recent leading man Robert Newman of Guiding Light soap opera fame.
From Revue West Michigan:
If ever there were a terrifying piece of musical theater, it's Stephen Sondheim's "Sweeney Todd: The Demon Barber of Fleet Street." Terrifying for its gruesome storyline about murder, revenge and cannibalism, yes; and terrifying for its sheer magnitude for the artists who put it together.
With beautifully complex orchestrations, wickedly smart and often lovely lyrics, extraordinary narrative sophistication largely through song, fascinatingly twisted characters, and violent action that's a challenge to illustrate visually, it's a tremendous undertaking, and when done well, one of the great works of art to appear on stage.
This is exactly how it is delivered at The Barn Theatre — as a terrific achievement, with every challenge, every bit of complexity met with aplomb and grace.
Under Hans Friedrichs' masterful direction this "Sweeney Todd" is a force. Rich with texture, the show is visually delightful, musically stunning, and every character on stage is spectacular thanks to excellent casting and marvelous performances.