Book, Music and Lyrics by Jonathan Larson
Musical Arrangements – Steve Skinner
Original Concept/Additional Lyrics – Billy Aronson
Music Supervision and Additional Arrangements – Tim Weil
Dramaturg – Lynn Thomson
Produced & Directed by BRENDAN RAGOTZY
RENT Opens August 22nd, runs through September 3, 2017
The Barn Theatre production of RENT is a special event that honors a beloved Barnie. The book, music, and lyrics were all written by "Barnie" Jonathan Larson who served as an apprentice in 1980-1981 and performed alongside Marin Mazzie, Tom Wopat and other Barn greats.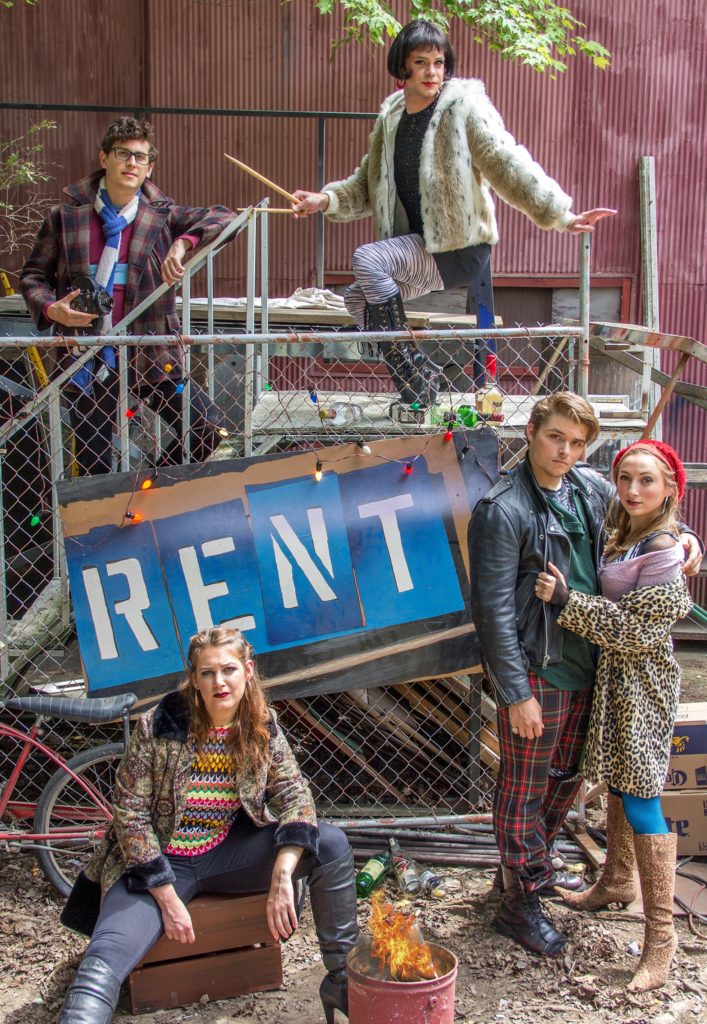 Based on Puccini's opera, La Bohème, RENT translates the story to the gritty, dilapidated apartments and fire escapes of Manhattan's Alphabet City where we meet the bohemian group of friends on Christmas Eve. Introverted filmmaker Mark Cohen (third-year apprentice Nick Barakos) and his roommate, frustrated, musician Roger Davis (first-year apprentice Alex Crossland) are facing looming eviction by their former friend turned smarmy landlord Benny (first-year apprentice Chase Gray).  After Mark leaves, Roger meets their neighbor, exotic dancer Mimi Marquez (first-year apprentice Rachel Mahar). The attraction is instant, and Roger and Mimi decide to join the Christmas revelry at the local café.  Soon joining the celebration are performance artist Maureen Johnson (Samantha Rickard), her lover, the left-brained lawyer Joanne Jefferson (Guest Artist Courtney Bruce), Anarchist computer philosopher Tom Collins who is living with AIDS (Guest Artist Byron Glenn Willis) and his sweetheart, transvestite percussionist Angel Dumott Schunard, (Jamey Grisham) who is also living with AIDS.
Though fear divides them, they all must come to terms with their pain and rely on their fringe menagerie family of friends to pull them through the year.
Two decades later, Barnie Jonathan Larson's musical continues to speak loudly and defiantly across generations the world over. The Pulitzer Prize and Tony Award®-winning masterpiece got its regional premiere at the Barn in 2008. This Gen-Ex hit first debuted in February of 1994 at the New York Theatre Workshop to explosive reviews.  The rock opera opened off-Broadway in 1996 and moved to Broadway's Nederlander Theatre on April 29 of the same year and ran until September 7, 2008 for a total of 5,123 performances.  Tragically, creator Jonathan Larson suffered an aortic aneurysm and died on January 25, 1996, the evening before RENT opened off-Broadway. Sadly, the composer never lived to see much of the show's success.  The grit and passion of this musical have made it one of one of the most successful musicals in decades, featuring show stoppers such as "Today 4 You," "One Song Glory," "La Vie Boheme," "No Day But Today," and "Season's of Love."
RENT is directed by Brendan Ragotzy.
Musical Direction is by Matt Shabala
Choreography is by Jamey Grisham.
Samantha Snow is the Set Designer
Michael Wilson Morgan is Costume Designer.
Crysta Menefee Gsellman is Hair/Wig Designer.
Properties are designed by Sam Rudy
Lights are designed by Mike McShane
Ben Greiner is Sound Designer
Technical Direction is by John Dobson.
Thank you RENT sponsors WVFM 1065 and CM Contracting.
The Barn Theatre School is proud to present an American Sign Language interpreted performance of RENT on Thursday, August 31 sponsored by Eaton.
The Barn Theatre is located on M-96, west of Augusta. Tickets are $37 for adults and $25 for children 12 and under for all performances. Visa, MasterCard, Discover and American Express are accepted.  Group rates available. The Box Office is open daily 10:00 am-10:00 pm. Tickets may now be purchased online. To reserve tickets at the Box Office – Call today: (269) 731-4121 or visit the box office page here.