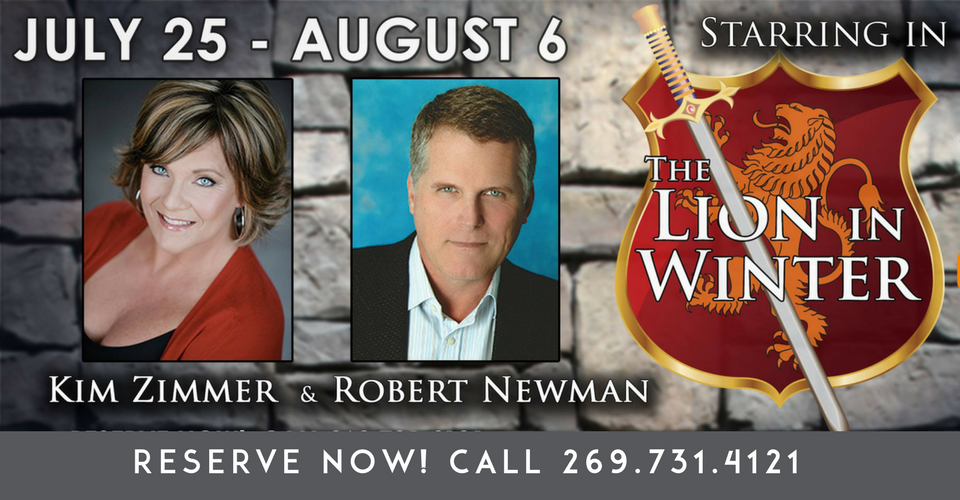 The Lion In Winter  • July 25 – August 6, 2017
With Guest Stars Robert Newman and Kim Zimmer
As the sun sets on his reign, the great and powerful Henry Plantagenet (Guest Artist Robert Newman) calls his wife Eleanor (Guest Artist Kim Zimmer) to the castle at Chinon for Winter Court, along with their three sons – the warrior Richard (veteran Jamey Grisham), and the bumble-headed John (first year apprentice William Dunn), and the conniving Geoffrey (first year apprentice Jabri Johnson). Eleanor has been imprisoned by her husband since 1173 and uses every moment she can to ensure Richard to be the successor to Henry. The key to the throne is to marry Alais, King Henry's mistress (second-year apprentice Audrey Morton), who is promised by her brother, King Philip of France (second-year apprentice Quinn Moran), to Richard. Locked behind the palace doors, a deadly game of alliances and betrayals unfolds as each player moves to control who will sit on the throne when Henry is gone. Goldman has combined keen historical and psychological insights with delicious, acid wit to create a modern theatrical masterpiece.
"A work of intelligence, astringent wit, and much theatrical skill" – NEW YORK TIMES
By James Goldman
**ADULT Backstage Xperience show. July 27 & August 3. Call 269-731-1151 for details. Space is limited!
Henry II, King of England – Robert Newman*
Queen Eleanor – Kim Zimmer*
John – William Dunn
Geoffrey – Jabri Johnson
Richard the Lionheart – Jamey Grisham*
Alais Capet – Audrey Morton
Philip II, King of France –  Quinn Moran
*denotes a member of Actors Equity Association   
Have Dinner Before The Show Here on Wednesday, Saturday or Sunday. Click for Details
 
Corporate Sponsors